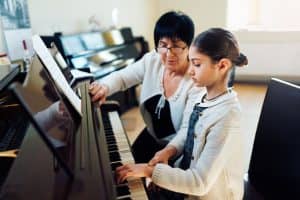 Music Instruction comes in all shapes and sizes.  So should insurance for music teachers.  From a small home-based business, to a leased music studio, to leased space inside a musical instrument retail store, to lessons in schools, to a full-sized music school: the method and scale of lessons can vary widely from business to business.  We have an insurance solution for that.
The two links below will take you directly into an insurance quoting portal, and in most cases will return a quote to you immediately.  When the quote is generated, you will have the option to issue the policy and pay for the policy.  It only takes a few minutes.
Music Tutor – Individual
Do you work alone? Is your number one priority to cover any mistakes or errors that may occur from the professional services you provide? This is the option for you.
Here's what you get:
$1 million in coverage per loss with up to $2 million in coverage per policy term for professional liability and general liability
All contracted entities are covered as additional insureds at no additional cost
Optional business personal property coverage up to $50,000
Defense cost for abuse and molestation included at $100,000 in coverage per loss with up to $300,000 in coverage per policy term (excluding New York)
Coverage for one individual with no employees
Home Based Music Insurance
Are you an entrepreneur who has turned your passion into a business? Do you have inventory, or do you use equipment to provide your services? Do you have other equipment you're concerned about protecting?  This option is for you.
Here's what you get:
Includes $5,000 business personal property coverage (limits available up to $70,000)
$1 million in coverage per loss with up to $2 million in coverage per policy term
$25,000 professional liability limits (not available in all states)
For an additional $100, your policy will cover all contracted entities as additional insureds
Coverage for up to three employees
*Home Based business is often not covered by your homeowners insurance.
Questions?  We're happy to help.  Contact one of our insurance professionals at info@musicinsured.com.  Or call us at 800-942-5818 and ask for the music team.