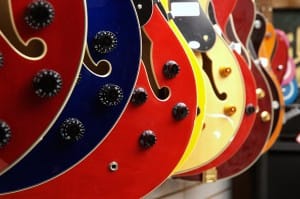 Although providing quality instruments to the community is a major part of the music store business, most stores include additional services such as renting instruments, lessons and instrument repairs.  Students who take lessons at the store location may participate in recitals sponsored by the store.  Instruments may be purchased and then shipped via common carriers, rather than being picked up in the local store.  And the incredible rise of internet sales continues to impact the music retail industry.  Each of these pieces requires different types of insurance to make sure that your investments in your products, your staff and your students are properly protected at all times.
Retail
Questions to consider: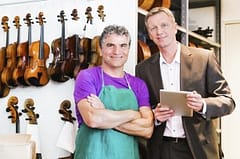 Is flooding covered by my policy?
If my inventory of instruments is destroyed, will the insurance company reimburse my purchase price for them?
If I ship an instrument and it is damaged, does the insurance company reimburse what I paid for the instrument, or its sale price?
What happens to my income if my building is damaged by a storm and I can't open for 3 weeks while the repairs are being made?  What about if I don't have any physical damage, but the electricity in my area is out for several days?
What happens if I'm accidentally responsible for damage to a building that I'm renting?
Do I have to carry Worker's Compensation insurance for music teachers who rent space from me to give lessons to their students?
What if I host a recital, and an audience member trips and is injured?  What if a student trips and is injured?
The last thing that any business owner wants to discover at the time of a claim, is that it's not covered.  Not all insurance policies are equal.  Not all agents take the time to uncover all your insurance needs and explain the solutions clearly to you.
Emery & Webb was chosen by NAMM to provide business owners insurance to its members because of our insurance expertise and our understanding of the music industry.  We take our responsibility to you seriously.  Not only will we help you assess your insurance needs, but we will explain what the insurance is, what it does, and what it means for protecting your business.
Rentals
You own the instruments, but they are often in the homes and hands of 7 – 18 year old students.  Instruments that you own, but are not primarily stored at your business location, require special coverage.
Lessons
Instrumental & Vocal lessons:
Provided by you or your employees in the store
Provided by you or your employees at the student's home or another location
Provided by instructors who rent practice space from you for themselves & their private students
Provided by instructors who you subcontract as part of your business services
Music lessons are a variation on a theme.  There are many ways that students invest in lessons, typically tailored around the scheduling needs of their family.  Music stores and instructors have developed multiple, creative ways to meet these needs in order to further music appreciation within their communities.  So we've developed multiple, creative ways to make sure you have the insurance protection that you need.
Repairs
Repairs typically mean that you have an instrument that you do not own in your shop.  If the worst case scenario happens, and that instrument is damaged or destroyed while in your care, you will either need to pay for it yourself, or make sure that you have the proper insurance to cover it on your behalf.