Be Prepared for Fall Storms
Complacency breeds catastrophe.
At least in the world of weather disasters and insurance.
While today is officially the last day of summer, it is not the last day of hurricane season.  Hurricane season officially runs from June 1 – November 30.  Sure, a November hurricane is unlikely and hasn't happened in decades.  But a hurricane-free summer causes many to breathe a sigh of relief, and relax their vigilance.  The summers of 2013 and 2014 were quiet, and we insurance nerds are extremely grateful.  However, a few quite summers can cause us to quickly forget the devastation of October 29, 2012.  Does that date ring a bell?  It's the day that Superstorm Sandy made landfall on the east coast and destroyed huge chunks of New Jersey and New York.  It wasn't a summer storm.  It was a fall storm.  And how about 2011, when our kids went trick-or-treating in the snow?  The freak Halloween snow storm caused thousands of power outages as snow coated and weighed down trees that were still full of leaves!
There have been massive Category 4 hurricanes lashing the east coast during the fall for decades.  Hurricane Donna in September 1960, Hurricane Hazel in October 1954, an unnamed hurricane in September 1938.
The bottom line?  We're not off the hook yet.  Fall storms happen.  This is the time to get prepared.  Please don't allow a hurricane free summer to lull you into a false sense of security.  It doesn't take much to be prepared – a few simple steps can make a huge difference for your family if we experience storms this fall.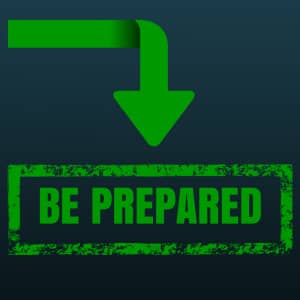 10 steps to prepare for Fall Storms
 Check flashlights and stock up on batteries
Buy an extra case of bottled water
Check your gutters and downspouts – clear them out and make sure water can flow freely to avoid water coming back into your home and to avoid ice damming
Lay in your supply of ice melt, and locate the snow shovel
Do a little research and find out your emergency evacuation route, especially if you live within 10 miles of the coast!
Make sure that you have a plan for your prescription meds if you are evacuated – know the names and exact doses so that the Red Cross can help you if necessary, and if possible, keep a small extra supply in your emergency bag (Many physicians will give you a prescription for an extra inhaler, diabetic supplies, maintenance medication etc if you explain that you are putting them in an emergency evacuation kit, particularly if you live within 10 miles of the coast.  Some medications, such as prescription pain medications, cannot be filled ahead of time.  Put an empty bottle with the dosage on the label in your emergency kit – so that Red Cross workers will know the exact dosage that you need in case of emergency)
Don't forget emergency supplies for your pets.  Do they need meds?  Keep a small amount of food, meds and water in your emergency pack for them.
Do you still have valuables and photos stored in cardboard boxes in your basement?  Even after seeing news footage of families who lost everything in flooded basements?  Either move the cardboard to the attic, or invest in plastic storage bins for your basement!  Water will always come into the lowest level of your home first. Be proactive!
Pay attention when you are told to evacuate.  And evacuate.  Listen.  The greatest danger and devastation always happens to those who decide to "ride out the storm".  "Riding out the storm" always, ALWAYS leads to emergency personnel risking their lives to save individuals who could have saved themselves if they had only evacuated when told to do so.
If you are handicapped and will have trouble evacuating yourself, and you do not have friends or family close by who could help you, make a call today to your local fire department (DO NOT call 911 for these arrangements; call the business phone number for your fire department – it's listed in your phone book and it's available online) and talk to them about making arrangements in the event of an emergency.  They would rather plan ahead to help you, than leave you in harm's way.
Looking for more resources to protect your family?  Check out the following links for National Preparedness Month:
National Preparedness Month – Ready.gov
National Preparedness Month – CDC.gov